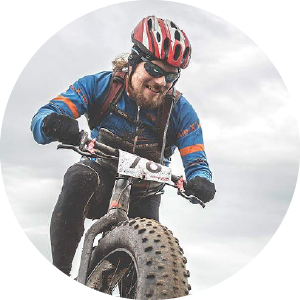 WHAT DOES IT MEAN TO BE PEKKA?
Being Pekka means that you go outside just for fun, decide to take your bike and to go for a ride ending up spending night in snow-igloo 200 km away from home as a guide for a Japanese group of tourists. In minus 20 Celsius degrees explaining how Nothern Lights are being born and drinking sake at the same time. Normal stuff. So, I suggest you follow me and my adventures to all kinds of wonderful places on earth. To where ever my bikes just takes me!
THE MOST MEMORABLE PROJECTS
I love my work. It is a combo of active lifestyle and promoting cycling. All my working trips to Russia have been really memorable ones. Being part of Almatyevsk's transformation into active city was a great pleasure and privilege in 2016. Cycling consultancy project for the city of Nursultan (Astana at the time) was also an eye-opening experience.
So many good stories to tell… Well, cycling on frozen lake Baikal was inspiring in so many ways. Russian minute by minute schedules that never happen never stop amusing me. I guess visitors in Russia never sleep with those schedules. I never do.  
Out of national projects I must pick out all MTB related development projects. Making Syöte MTB yearly competition to happen has been a dear hobby as well. Being able to plan and execute local MTB trail network in my own city region has been a great honor and pleasure. I will never get tired of these kinds of projects. Being out there in the nature and at the same time knowing to improve cities to be more livable and active is the best thing I know!
HOW TO IMPROVE?
The world is full of great places and wonderful people. The more I get to know them, the better I get in my work as well. Never stop learning! I love to collect old stuff and especially old bikes and bike parts. To make them usable again is a lifelong hobby of mine. Earlier I took photos of every Finnish municipality road signs out there, but that project is now done with. Now I focus on biking to as many places possible as I can. Conquering the tiles of the world! One major challenge is to bike across the frozen Gulf of Bothnia. Those darn ship routes that are being kept open by ice breakers are giving me a tough nut to crack. But I will prevail one day, I know…
Pekka TEDx Bratislava: How cycling boosts our economy?
Shifter video, where Pekka introduces the marvels of Oulu.