As we are witnessing a strong global boom of cycling, Oulu has risen once again to the headlines of the international media. However, cycling boom is not a real one if there is not a serious possibility to keep on pedaling through the year. Which is the best-known success story of year-round cycling to get inspired and to learn from? You got that one right, buster! Oulu!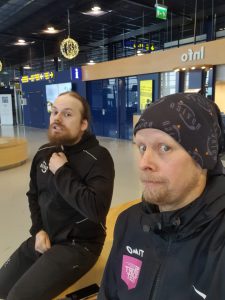 For decades have Navico's cycling agents Pöx & Zim aka Pekka and Timo served as Oulu cycling ambassadors. These two fellas organized the first ever winter cycling congress in Oulu in 2013 after having talked the talk in numerous conferences. They have also arranged guided tours in Oulu for foreign journalists, media teams, city planners, cycling advocates and decision makers that have wanted to experience Oulu year-round cycling miracle on spot (we count groups coming from southern Finland as foreigners as well… 😉). Both Pekka & Timo have been mentored by Mauri Myllylä – the former City of Oulu traffic engineer from 1960's to 1998 – who is regarded as the father of Oulu cycling success story. Besides being part of latest twists and turns of cycling development in Oulu, they also know the history throughout, thanks to Mauri.
Due to the pandemic, there has not been that many tours to be arranged. A few journalists have visited us in Oulu and returned safely back home (only a few "close call" -situations with an ice breaker and with one pack of wolves 😉), but guided tours for larger groups have remained only in dreams of our Urban Wellbeing Engineers. Many who had to stay at home have called us and asked for videos & photos. Therefore, this winter Timo & Pekka finally had some time in their hands to put all the Oulu cycling and active urban design expertise and material they have produced during the years together and had the possibility to start working on Oulu Virtual Master Class (OVMC).
The OVMC consists of short documentaries, videos, interviews, technical visits and 360 degree virtual tours. Yes, we know. It is not the same as the real thing, but we try to give you the best possible experience of Oulu cycling at the same time as we wait for better days to come. Put on your virtual glasses, open your window, let the cold air embrace you and start pedaling your stationary bike with us!
The first edition of OVMC will premiere soon(ish). It will include for example several virtual rides around the wintery Oulu, documentaries of Oulu cycling secrets from different point of views, a special visit to the most active mobility friendly school in the world, Metsokangas elementary school…. just to mention a few things. The OVMC site is scheduled to be opened at navico.fi in April 2021 (if Pekka will not get lost on his adventures) and new material and tours will be added ever since, every month (by Timo if Pekka is still somewhere out there being Pekka).
Can't wait?! Neither can we. In meanwhile, check out the outstanding video by "Not Just Bikes". We helped Jason with the Oulu content for this video. Enjoy.